April 15, 2022
Recipe share for Sally's perfect soft pistachio meringue with blood oranges and rhubarb. Perfect opportunity to practice for special occasions or any occasion.
Ingredients
190g sugar
3 egg whites
2 tsp cornflour
1 tsp champagne wine vinegar
¬Ĺ tsp vanilla essence
50g shelled unsalted pistachio nuts, roughly chopped
200g forced rhubarb (approximately 3 sticks)
50g sugar
75ml blood orange juice
75ml inexpensive sweet white wine, e.g. Juracon or Beaumes de Venise
250ml double cream, whipped to soft peaks
6 large blood oranges, peeled of peel and pith, cut into segments
6 sprigs of min
Instructions
Preheat the oven to 140¬įC/285¬įF/gas mark 1 and line a baking sheet with silicone wax paper.
In a clean dry bowl whisk the egg whites until stiff then fold in the sugar gradually, whisking continually until the meringue becomes thick and glossy. Finally, whisk in the cornflour, vinegar and vanilla essence. Fold in the pistachio nuts.
Scoop the meringue into 6 equal-sized mounds on the baking sheet, leaving a small space between each on as they will puff a little during cooking.
Bake for approximately 40 mins or until crisp on the outside but not coloured. The interior should be soft and marshmallow-like.
Meanwhile prepare the rhubarb. Cut it into lengths of 4-5cm and place these in an ovenproof dish. Sprinkle with the sugar, orange juice and wine, cover with aluminium foil and bake in the same oven for 10-15 minutes or until tender. Allow to cool.
Choose and reserve the most beautiful 18 pieces of rhubarb and push the remaining pieces through a plastic sieve with all the cooking juices. Taste for sweetness.
To assemble, place 6 meringues on 6 plates, top each one with a spoonful of whipped cream and arrange the orange segments and reserved rhubarb attractively. Serve immediately with the rhubarb sauce and drizzled over and a mint sprig.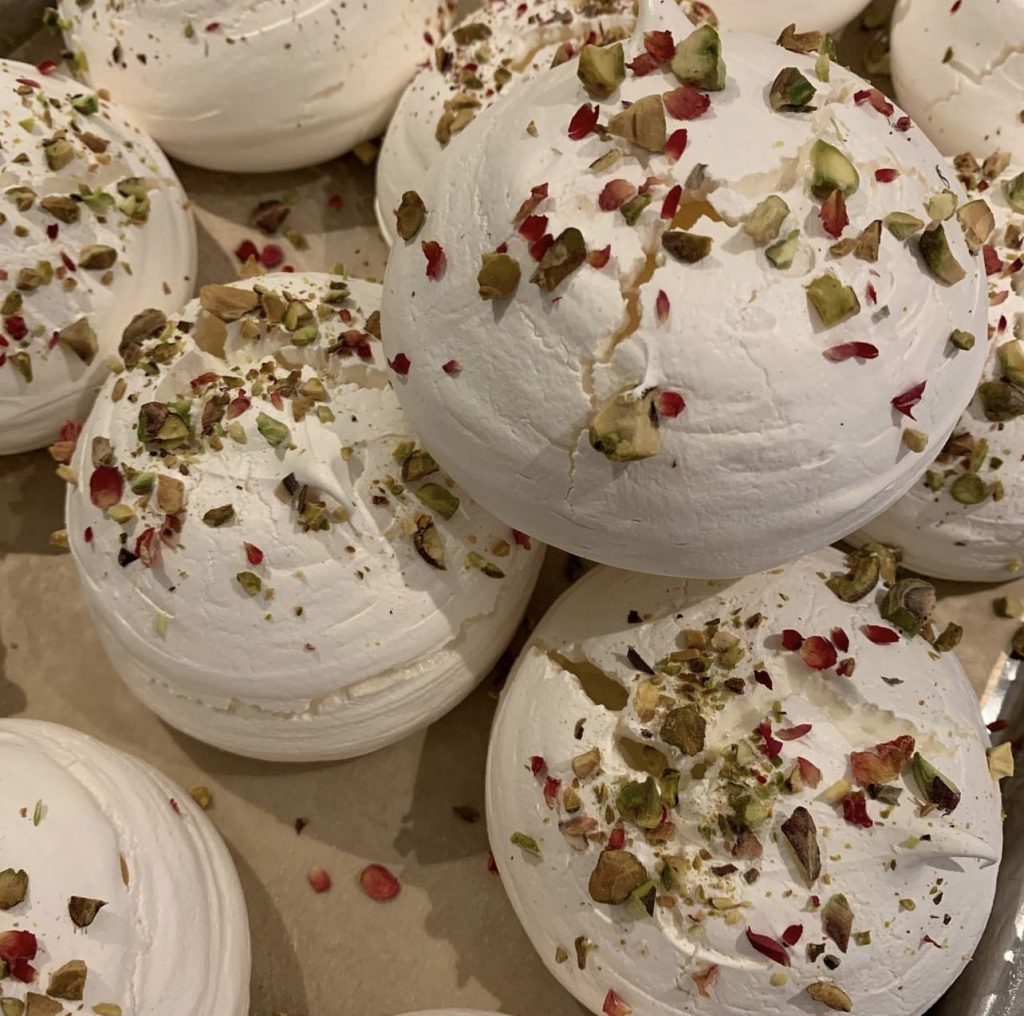 soft pistachio meringue … add your rhubarb with blood orange juice … et voila