Sally Clarke
It was most probably the family holidays in France with her parents and brothers which ignited Sally's love of food. There, from a young age, she became familiar with the ebbs and flows of the seasons through the displays of the farmers' markets. Experiencing the wide variety of ingredients and the joy of choosing from them to create a menu, undoubtedly sowed the seed of a restaurant life for her. After school, she studied at Croydon College and then in Paris at the Cordon Bleu, which was followed by gaining invaluable kitchen experience as an unpaid commis chef in various restaurants in Paris.
On returning to London, she wrote to Elizabeth David for advice, thinking that a writing career may suit. Meanwhile, Prue Leith offered her a teaching position at her newly formed Leith's School of Food and Wine.
From there she moved to live and work in southern California, learning both kitchen and dining room skills, while broadening her wine knowledge through the wineries and the wine producers of the USA. It was during this time that she met Alice Waters of Chez Panisse, who became a friend, and subsequently her mentor. Alice continues to be her inspiration on a daily basis.
In 1983, Sally returned to London to search for premises, her goal initially to open and run a modest restaurant with a small menu and a wonderful wine list. The plan was for this to fill 'just a few years' and to then move to the countryside, where she imagined the creation of a 'restaurant with rooms', cooking from the garden while writing menus to reflect what was growing in the surrounding area. As she readily admits now, the plans changed, and 'things snowballed a bit' … but perhaps that is an understatement.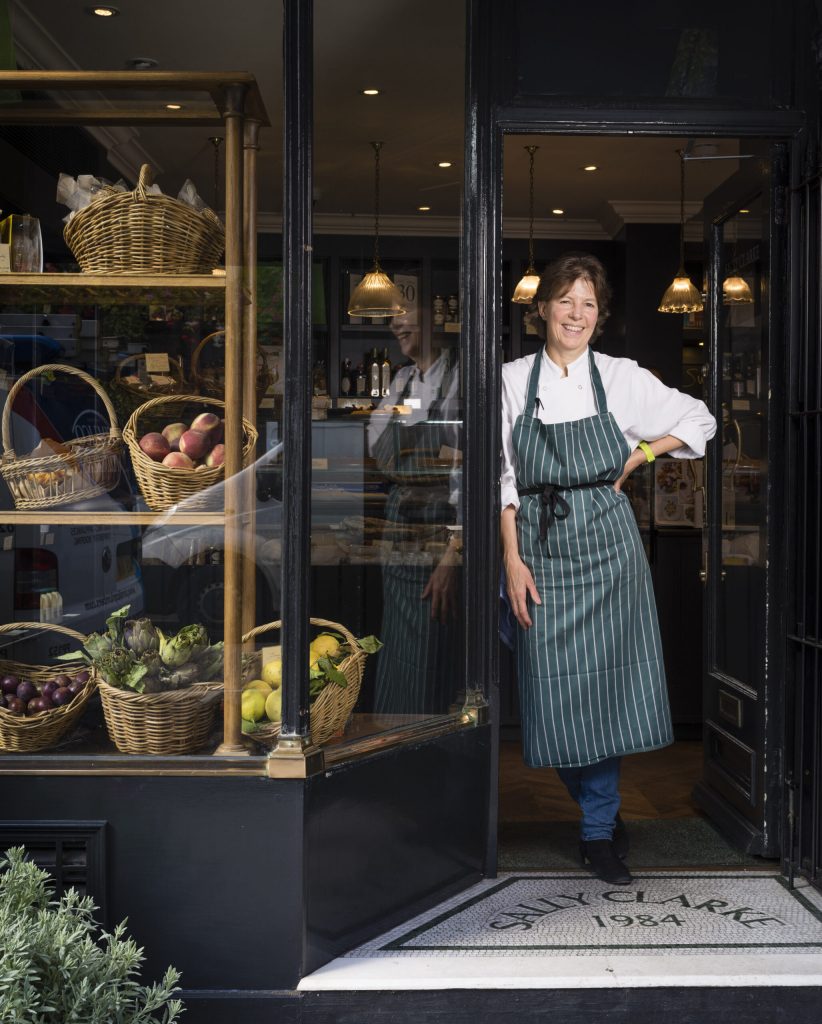 Sally outside her shop on Campden Street
Now, 38 years on, Sally can proudly claim that over the years, the restaurant has given birth to not only her two retail shops in Kensington, but also a wholesale bakery and a production kitchen, both based just a stone's throw away from the restaurant. The Clarke's family of staff, past and present, has grown from a small handful to well over 100, some of whom have worked alongside Sally for decades. Others have gone on to open businesses of their own, in locations all over the globe; from Ireland to Yorkshire, Tokyo, and Melbourne, and from Tuscany to Provence and upstate New York.
Sally may now be found every day in the Shops, Bakery, Production Kitchen, and Restaurant dining room.
Clarke's Restaurant
In December 1984, a few days before Christmas, Sally opened her doors in Kensington Church Street – chef by day and maitre d' by night. Her no–choice dinner menu soon became a talking point, and customers arrived from near and far. Some booked weeks in advance, most of them not worrying about the details of the menu – they just wanted to come! The menus were written every day, to accurately reflect the seasonal availability of the fruits, vegetables, and herbs. Breads, pastries, ice creams, and chocolate truffles were all made by hand in the kitchen, and all ingredients were prepared and cooked fresh on the day – a process which we proudly continue, 38 years on.
In the early 1990s, the restaurant was beautifully renovated, placing all the seating on the ground floor, an elegant private dining room was added, plus a pretty garden to look out to from the main rooms.
The British and Mediterranean-inspired menus still change twice-daily and showcase a wonderful array of ingredients from a trusted list of farmers and fishermen from Sussex to Cornwall and Scotland, France, Italy, and Spain. Lunch offers a 3-course set menu priced at £38, with a selection of a la carte dishes alongside, while the dinner menu offers a wide variety of dishes to suit all tastes and appetites.
Regular customers speak of the unique qualities of Clarke's – that it is like no other restaurant – it has its own personality and taste. We feel that we offer a certain style of service which is 'Clarke's'. Formal yet not stuffy; relaxed, yet not familiar – and the food served is uncomplicated, unfussy. It has a focus on the freshness and seasonality of the ingredient which is handled with care and respect from the delivery to the plate. Perhaps it is the simplicity of the dishes and the elegance of the service which draw our customers back.
Shops
Within a few years of the restaurant opening, Sally was able to acquire the building next door, which allowed not only the expansion of the seating area but also ample space to create a retail outlet for the many baked items which were being prepared also for the restaurant menus.
Breads, sweet and savoury tarts, biscuits, cakes, muffins, and chocolate truffles were first on the list and very soon soups, pasta sauces, salads, and braises were added. A little cafe was created at the back and the takeaway coffee with a pastry was born!
Scroll forward to today, the 'original' shop is now situated directly across the street from the restaurant in Campden Street, including the corner store space on the corner of Campden and Kensington Church streets … serving delicious coffees and pastries from early morning each day. You will also be familiar with our second shop, which opened in September 2020 (mid-pandemic!) on the corner of Portobello Road and Westbourne Grove.
Both shops serve the immediate neighbourhoods with a wide selection of sweet and savoury items – for dinner or lunch parties, cakes for celebrations, sandwiches for picnics in the park, wines, chocolates, and olive oils – as well as items for a quick snack on the run.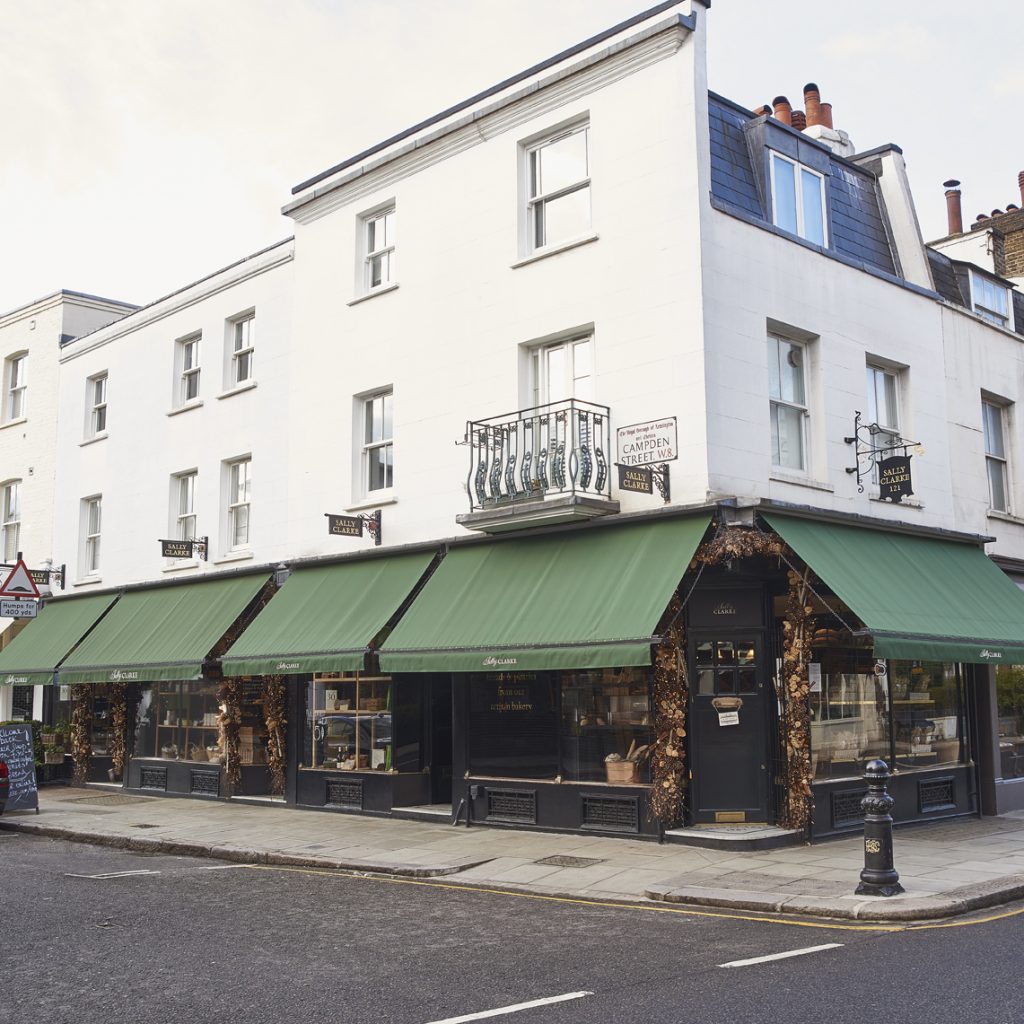 ---
Bakery
Sally Clarke wholesale bakery was established in 1989 to meet the growing demand for our top-quality, hand-shaped artisan bread, Viennoiserie, and patisserie, which have always been served in the restaurant and our shops. This remains our focus today and the bakery produces a full range of baked goods together with a seasonally changing range of cakes, sweet and savoury tarts, muffins, and cookies.

Our artisan table and sandwich breads and rolls are produced using traditional methods incorporating a select range of quality ingredients. We incorporate naturally fermented levain into most of our doughs, thus limiting the use of yeast. This extends the length of the production process and adds to both the complexity of the taste as well as the longevity of the breads. We do not use additives, preservatives, or improvers in our production. We deliver our breads and pastries every day, using our own smart liveried vans, throughout London and within the M25, to quality restaurants, specialty shops, hotels, and catering companies.
Production Kitchen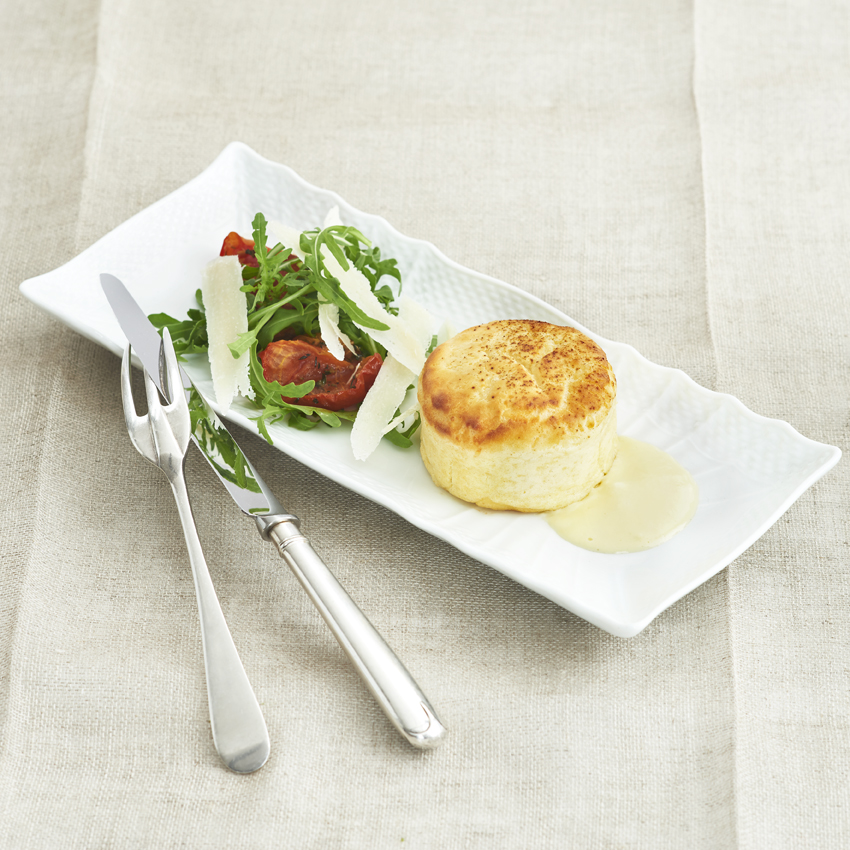 A little over 10 years ago, following the growing success of the shop and the ever-increasing range of dishes that were being produced by the restaurant, it became clear that the kitchen space was becoming an issue!
So a new kitchen was created within the bakery premises and the Production Kitchen was born.

Now supplying both shops 7 days a week, our chefs create a wide range of take-home dishes for our retail customers, such as meals to reheat and serve at home for lunch or dinner, soups, pasta sauces, pies and pasties, jams, and marmalades, all using fresh ingredients, prepared and cooked in the traditional way. Sally continues to work with the team and they evolve the range, together, throughout the seasons.
---
Sustainability
Dadshouse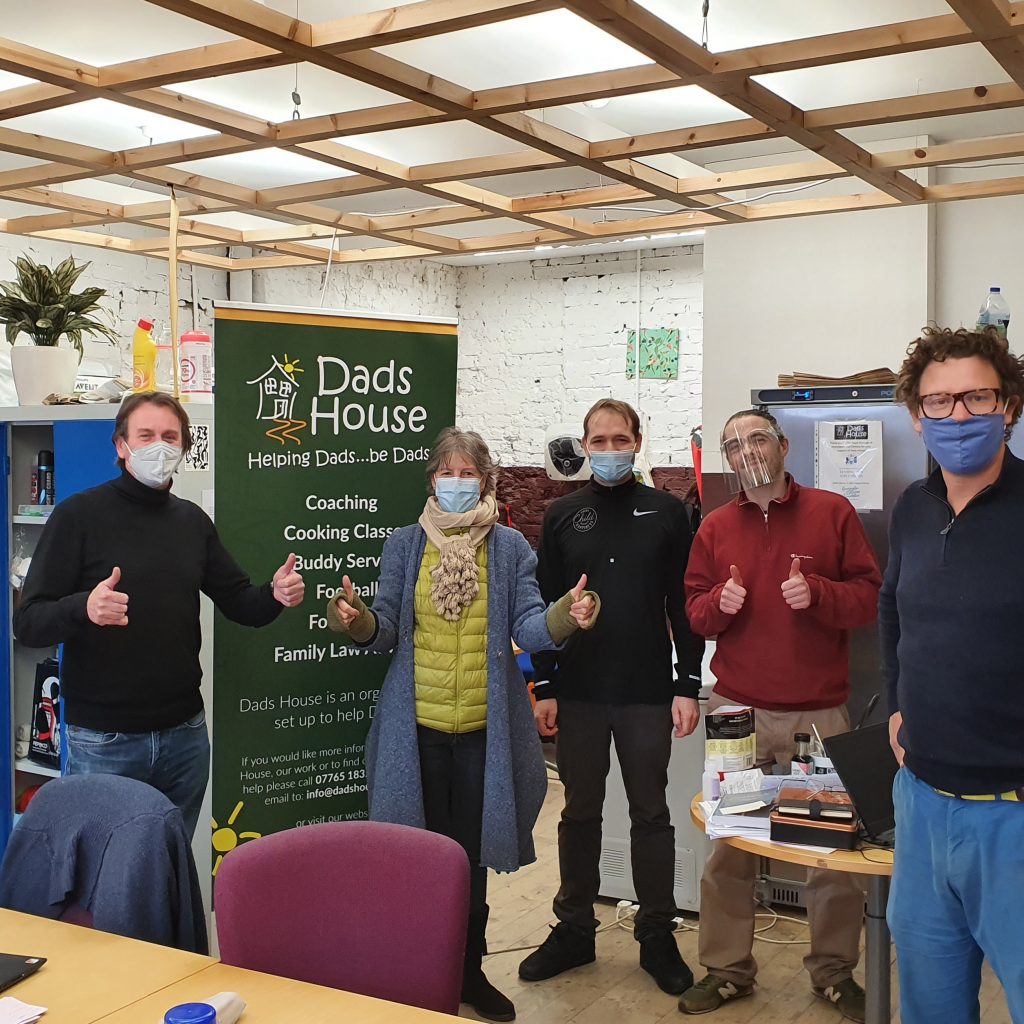 From its outset, Clarke's Restaurant and Shop has been concerned about waste.
Menus have always dovetailed into one another, thus reducing waste, and the trimmings of fish or meat which may be unsuitable for our menus, plus any excess of vegetables, salads and herbs have, for over 30 years been part of the process of the creation of our staff menus.
Over the years we have supported various local charities, by donating our excess breads and pastries. Most recently, we have teamed up with the Felix Project and DadsHouse, both of which collect and distribute our excess to those in need, local families who struggle to make ends meet, particularly during these times of lockdown.
To support Dadshouse or just to find out more, please visit: https://www.dadshouse.org.uk/
Packaging & Delivery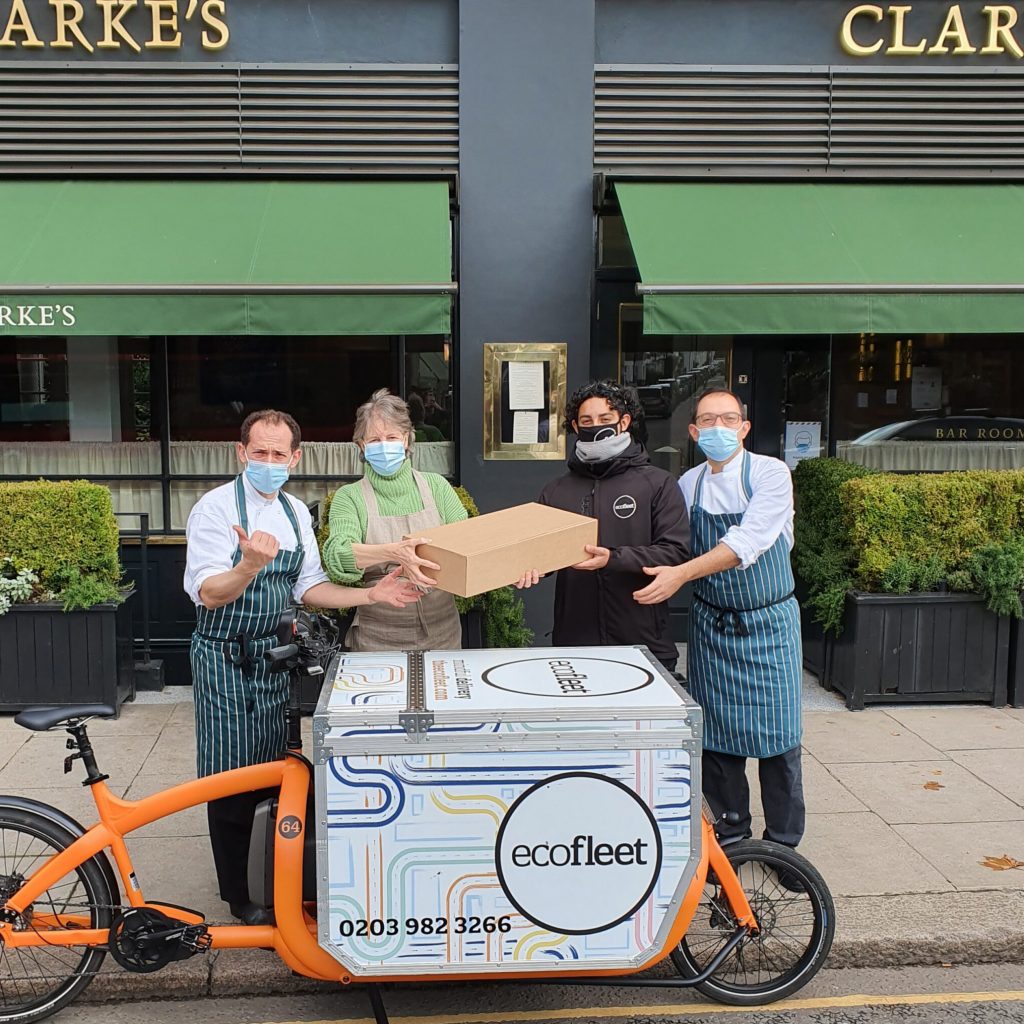 We are making it our mission to reduce our carbon footprint and plastic as much as possible. This year, we exchanged the majority of our single use plastic for bio-degradable cellophane (a completely sustainable plant based alternative) and we are constantly looking for environmentally friendly solutions in every part of our business.

For the past year we have been delivering throughout London with our friends over at ecofleet. These electric bikes not only provide a sustainable and carbon-neutral solution to urban delivery but treat our team, customers and packages with tremendous care and respect.