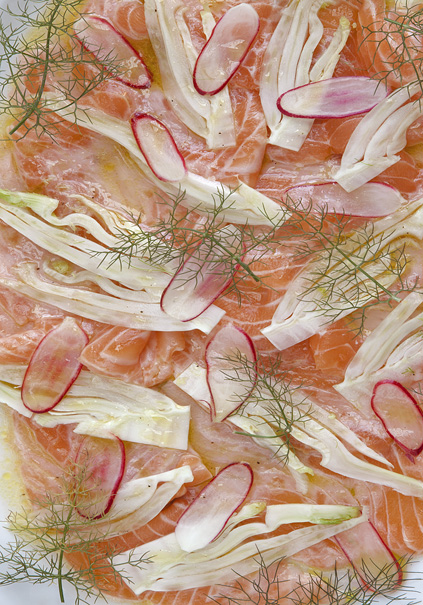 450 g fillet of wild or organically-reared salmon
1 medium fennel bulb, washed
1 small bunch radishes
1 small bunch dill, stems removed
Juice of 2 lemons
4 tbsp olive oil
1 lemon, cut into 6 wedges
Ask your fishmonger to pin-bone the salmon for you if you are unable to do this yourself. This is essential as you will be slicing the fish raw and cardboard (not paper) thin. Any stray hair bones will drag with the knife and the slices will rip as you cut, so it needs to be done correctly.
Freeze or chill the fish in a fridge for up to 20 minutes to make the slicing easier.
Trim the fronds from the fennel bulb and chop finely. Remove the outside leaves of the fennel and use for another recipe (soup, stock, stew).
Cut the fennel heart in half lengthwise and, with the cut surface face down, slice as finely as possible in long slices. Wash and trim the radishes and slice very finely from top to bottom.
Pick a few beautiful dill sprigs and roughly chop the rest.
Place both the fennel and radishes in a bowl with the chopped fennel tops and chopped dill and chill until ready to assemble.
With the skin of the salmon at on the cutting board, and with a very sharp long thin-bladed knife, slice the salmon thinly, slightly at an angle towards the skin. Do not allow the knife to cut through the skin; instead, angle the knife so that it just scrapes above it as the slice is released each time. Place the slices one by one onto a flat serving platter, either spread out fl
at or slightly overlapping.
This may now be covered tightly with clingwrap and left in the fridge for up to 2 hours, or finished immediately (which is preferable).
Toss the fennel and radishes with the lemon juice, olive oil, salt and pepper until well coated. Do not worry if there seems to be too much dressing as this will act also as the marinade for the fish. (As the lemon juice and the acidity of the olive oil touch the fish, they will start to 'cook' it, thus tenderising it slightly.)
Scatter the vegetables over the fish lightly and evenly, then drizzle the remaining juices over and around.
Garnish with lemon wedges and reserved dill sprigs and serve with granary bread or rye toasts.