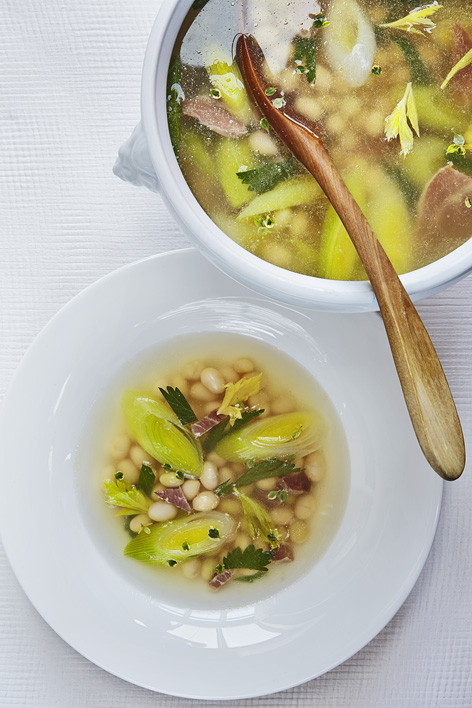 250 g dried cannellini or borlotti beans
600 g fresh ham hock
1 medium onion, peeled and quartered, root on
2 sticks celery, washed and sliced
A few springs rosemary, thyme, bay and parsley, tied together
2 cloves garlic, gently crushed
1 carrot, peeled and cut lengthwise
Salt
2 tbsp olive oil
To finish the broth:
3 tbsp olive oil
1 clove garlic, crushed
1 tsp chopped thyme
2 large leeks, trimmed, washed well and sliced
1 tbsp chopped celery leaves
1 tbsp chopped parsley leaves
Soak the dried beans overnight in lots of cold water.
The following day bring the beans to the boil in fresh water, drain, rinse and place in a clean pan with the ham hock, onion, celery, herbs, garlic and carrot.
Cover well with cold water and bring to the boil. Simmer gently (adding extra water if the level diminishes) for up to an hour, or until the beans are tender throughout. Remove the pieces of vegetable and the herbs with tongs.
Remove the hock piece and trim off excess fat, then dice the meat finely.
In a large heavy-based pan heat the olive oil, crushed garlic and thyme until fragrant, add the leeks and cook until soft but not coloured. Add the ham and then the beans including the broth. Bring to the boil, taste and adjust seasoning. Add chopped celery and parsley leaves and serve drizzled with extra olive oil.