April 13, 2022
Calling all mothers.. sons.. and daughters..!
This year we are thrilled to be able to offer a selection of ideas for you to treat or to spoil (or to butter up!!) your lovely mothers. From sweet or savoury treats on the shop shelves, to a fabulous hamper filled with an exciting array of goodies, to a wonderful Sunday lunch at the restaurant, we are ready for you to decide.
I have also chosen a recipe from the chapter in my new book titled 'Dinner with everyone'
for you to share with your loved ones at home. It is not only simple to prepare and serve,
it also speaks volumes of the fact that spring is most definitely 'in the air'.
Pea, mint & potato frittata with a salad of herbs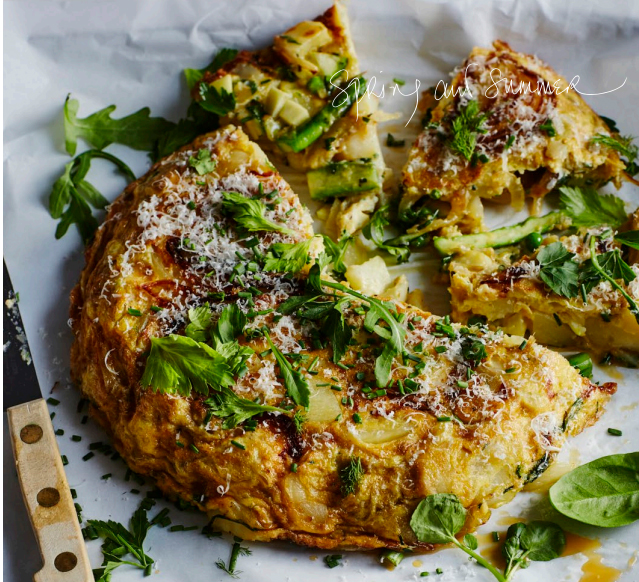 This is a perfect dish for using leftover potatoes, peas, courgettes or almost any other vegetables.
Left cold, it makes a very lovely addition to a picnic – or, wrapped in greaseproof paper,
it could make a welcome mid-morning snack at a lonely desk, or as a snack on the run the next day.
SERVES 4, NORMALLY WITH A LITTLE LEFT OVER
4tbsp olive oil
350g cooked potatoes, cut into walnut-size chunks
1 onion, peeled and finely sliced
6 eggs
Sea salt and freshly ground pepper
1tbsp chopped thyme, chives or parsley
A few cooked vegetables, such as peas, sliced courgette or asparagus, or broccoli cut into florets
TO SERVE
40g grated Parmesan cheese
A few small salad leaves or herbs, such as parsley, chopped chives or celery leaves
Sour cream
Heat the olive oil in a heavy-based nonstick oven-proof frying pan until smoking hot, add the potatoes and onion and fry until almost golden, tossing occasionally. Whisk the eggs with the herbs and some salt and pepper until very frothy and pour over the potatoes. Shake the pan to distribute the potatoes evenly.
Click here to buy your copy of First Put on Your Apron
Turn the heat down and cook for 4-6 minutes or until the egg is golden on the underside.
(Gently lift an edge up with a wooden spoon to check the doneness after a few minutes).
Meanwhile, turn the overhead grill on.
Sprinkle the cooked vegetables over the frittata, and gently press them into the surface using a spoon.
Place under the grill and cook for a further 2-3 minutes or until the egg is cooked through.
Check by pressing the centre with a spoon – if the egg is still liquid, it will need a few more minutes.
Remove from the heat and allow to settle a little as it cools.
Now for the tricky bit.
If the frittata has not stuck to the base, slide it out of the pan carefully on to a warm serving platter.
If it does not readily free itself, place the platter inverted over the pan. Holding the pan handle
carefully with an oven cloth in one hand and the plate firmly with the other, turn the two over together.
This will result in the frittata being placed upside down on the platter. If the frittata has stuck to the
inside of the pan, very gently nudge the underneath of the frittata away from the pan base,
with a thin flexible implement such as a palette knife or fish slice, without scratching the pan's surface.
Sprinkle the frittata with grated Parmesan, salad leaves or herb leaves
and serve sliced into wedges, warm or cool, with a scoop of sour cream.
Please do let me know at 'online@sallyclarke.com' if you tried this recipe and how you got on!
With our best wishes,
Sally and the Team
In addition to this Sally has put together a gift hamper –
filled with an elegant selection of deliciousness;
spring rhubarb jam, our famous chocolate truffles,
homemade macaroons, macarons, shortbread and pâtes de fruit.