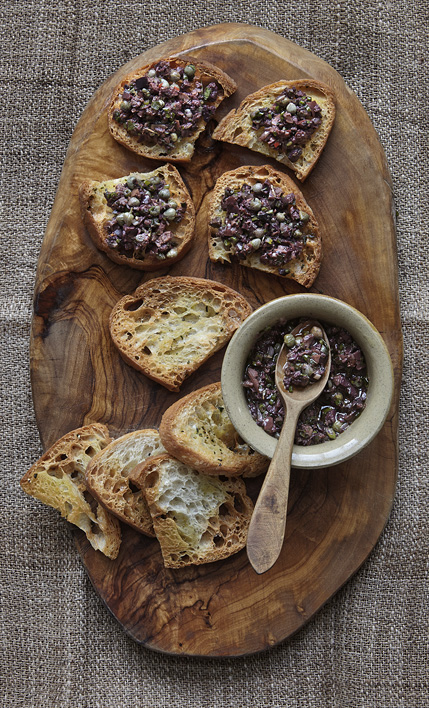 450 g pitted black olives
6 anchovy fillets in oil
1 clove garlic, crushed to a cream
2 tsp capers, drained of brine or rinsed of salt
Zest of 2 lemons, finely grated
1 small chilli, finely chopped 90 ml olive oil
1 tbsp chopped parsley, chives and/or thyme
1?2 baguette
1 clove garlic, cut in half
Chop the olives finely with the anchovy fillets, add the garlic and capers and continue chopping until it becomes a soft paste. Place in a small bowl, taste for seasoning, and add lemon zest, chilli and olive oil until it reaches the consistency you like (stiffer to use as a spread but looser if it is to become a sauce).
Finally add either chopped parsley, chives or thyme – or all three.
Slice a baguette (or similar country style bread) thinly and place on a baking sheet, drizzle with olive oil and bake in a medium-hot oven (approximately 180 ?c) until golden (this may also be done on a char grill – turning over to colour both sides). While still hot, rub each slice with a cut clove of garlic and serve topped with tapenade.